Home About Francis E Rehor MD
Francis E Rehor, MD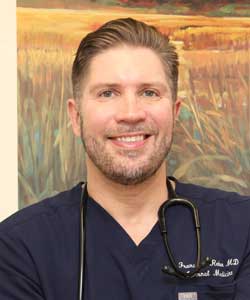 Dr Rehor has been a member of Princeton Lifestyle Medicine since 2015 and is Board Certified by the American Board of Internal Medicine.
Dr Rehor is a native New Yorker who grew up in Queens, NY. He completed his undergraduate education at New York University and would go on to complete his Medical Doctorate at the State University of New York at Upstate. He then completed his residency in Internal Medicine at Robert Wood Johnson Medical School/ UMDNJ.
His prior work would involve working as a Hospitalist at Princeton Medical Center (now Penn Medicine Princeton Health) from 2008-2015, at which time he became a member of the Princeton Lifestyle Medicine team. Dr Rehor remains an active staff member at Penn Medicine at Princeton. His unwavering philosophy is that healthy lifestyle changes remain at the forefront of wellness but understands that there may be real life obstacles to why patients may not be able to achieve this, thus he works with every one of his patients to find a solution that fits their personal needs in order to meet their overall goals.
Dr Rehor has been recognized by New Jersey Magazine's Top Doctors in Internal Medicine. He is a lifelong Buffalo Bills and Mets fan. His other interests include gardening, swimming and spending time with his family.